Debunking Myths About The Corporate World For Fresher's
4
minutes read
The corporate world can be intimidating, especially for people who have just stepped out from the protective environment of a college.  If you're a fresher looking for a job in the corporate world, it will be quite tough for you to find a good firm considering the competition around. If you do not have the guidance of a mentor, you'll make mistakes that may affect you on the long-term.
The majority of the problems that freshers face arise from the misconception and baseless rumors that they hear about the corporate culture. This post deals with such myths and the ways to get over them to lead a successful professional life.
You have to suck up to your boss from day one
There could be no bigger myth than this. Consider this, if everyone knows that sucking up to a boss is the easiest way to ride up the corporate path, then why is anyone even working hard to finish deadlines, or spending weekends at the office just to ensure that the presentation on Monday goes smoothly?  It would be easier for everyone to just do some shoe licking and get that elusive promotion. The matter of fact is that nothing substitutes hard work, diligence, positive attitude and confidence at the workplace. All these are the same traits that makes a person a winner in life and this is what is actually required to succeed everywhere.
This small talk originates from the mouths of people who could not reach the desired position and instead of improving themselves, despise the success of others and try to deprive them of credibility. This is the highest form of self pity and nothing more. It does help to have friendly relations with your boss, but the same holds true for every team member.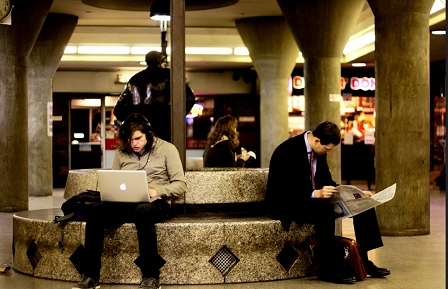 There is competition all around
This might seem unreasonable at first as all that everyone talks about is how tough competition is in the corporate world, especially for fresh graduates. It indeed a question of survival of the fittest, but you do not have to cut short the flight of others to take off your own. If you do this, you would never have any friends at work. This, many will tell you for fact; some of the best friendships start at workplace. In fact, being supportive, empathetic and sensitive are some of the key traits of a leader.
Giving credit where it is due will help you make a number of positive relationships and will eventually help you take the career further. It is your peers who form the major part of your professional network and we know how important it is to have a good professional network in order to find a new job. Who knows whether a referral by your former colleague may provide you the opportunity of a lifetime?
Better Money always means a better job
Who would not want a job that pays well? But not many want a job that 'only' pays well. Multiple surveys have confirmed the fact that money is a strong motivation for the millenials to work while applying to a particular corporate job. However, some more important factors that should govern your choice include work life balance, job satisfaction, and novelty. The 2016 Deloitte Millenial Survey came out with some serious insights about what millenials actually want from a job. While money came out as the strongest motivation, it does not work in isolation. Work life balance came in as a decisive factor while opportunities to progress or to be leaders also played an important role in deciding whether the job is good enough or not before they apply to them.
Excellent performance makes your job secure
Performing well at workplace is surely the best way to keep your position secure. However, there are few things in life for sure, and a job in a private corporation is certainly not one of them. A company functions on the basic concepts of demand and supply. If the demand stops, there will be no supply and hence no revenue and hence no money to keep up resources. In such situations, companies have to let go of even their most extraordinary employees.
There are other unfortunate instances when your entire team may get a roll off, or the department you work in might be sold off or restructured to some other entity. Here, you become an expendable rather than an asset. Nothing is constant, and the same goes for your job. Hence the best policy is to hope for the best and remain prepared for the worst. Keep your CV updated, and LinkedIn profile complete. Remain ahead of time and don't get caught unprepared when the lightning strikes.
---
Author Bio:
Saurabh has written this article keeping in mind the needs of the job seekers community, to help them be a better professional.  His write-ups extensively cover all the aspects of job searching and working life, right from subscribing to new jobs, to getting ready for interview, and working at an office. If you want to read more of his articles, follow him on, LinkedIn and Twitter
Subscribe now to get summarised alerts of new posts by email.