List of Universities or Colleges in Us That Accept WASSCE (WAEC) Results
6
minutes read
Universities and colleges in the United States are popularly known for the quality education they provide. However, there are some barriers international applicants face when trying to get into these institutions and one of them is high school results. Most universities will want applicants to provide SAT or ACT scores making it an extra hurdle for students who don't don't have one.
The good news is that there are some universities that will gladly accept WAEC results of students from Nigeria, Ghana, Sierra Leone, The Gambia, and Liberia. Here are some of them:
The University of Houston
The university of Houston was established in 1927 offering students various undergraduate, graduate, doctoral, distance, and continuous education programs.
It boosts of 15 colleges and ranks among the best universities in America with lots of innovative research centres.
The university prides itself as the first university in America to offer s Subsea Engineering Master's Program and an open arms to international students from all parts of the world.
This university accepts students from Nigeria and other West African countries that take the WAEC exams. The result must come directly from the WAEC board. There is also the option of purchasing the WAEC scratch card and mailing it to the university.
Link: http://www.uh.edu/admissions/international/
Kansas University
With over 250 majors and options to study at different campuses, Kansas University offers up the opportunity to achieve your academic goals as an undergraduate. Kansas University is known for ground-breaking research which comes through its exceptional research facilities and award-winning library.
International students from West Africa can enjoy the quality education this university has to offer as it accepts WAEC results for students who wish to apply for undergraduate degree programs.
Link:
Miami University
Founded in 1809, the Miami University is located at Oxford, Ohio. it prides itself as an "Original Public Ivy" and if you've heard about the Ivy schools, you'll know what this means.
Kiplinger lists Miami university among the top 50 best values in public colleges. Its graduation rate ranks 17th among public universities in the US as of 2018. It is also the 3rd university for a strong commitment to undergraduate teaching worldwide according to a 2019 U.S. News and World Report.
Getting into Miami University is easy with your WAEC results. You will only need to provide the certificate and show proof of English Language ability. However, they encourage their international applicant to take the Scholastic Aptitude Test (SAT) as the test score will increase their eligibility for merit-based award scholarship.
Link:
http://miamioh.edu/admission/international/index.html
Texas A&M University
Texas A&M was the first public institution of higher learning in Texas established in 1876. Its main campus is located in the heart of Austin, Dallas, and Houston triangle. The other branch campuses are in Qatar and Galveston.
The Money magazine ranks the university 1st in the "50 best colleges you can actually get into" and 13th in the "Best colleges for your money" report in 2016. The U.S. News and World Report ranks it 2nd in the nation's "Best Value Schools" among public universities and 21st among private and public universities in 2017.
Texas A&M accepts official examination results such as the West African Examination Council (WAEC). But you must submit the scratch card before the deadline for review. To begin your application, you must pay a nonrefundable fee of $90 (subject to change). Also, they exempt students from Nigeria, Ghana, Sierra Leone, Gambia, and Liberia from the English proficiency requirement.
Link:
http://admissions.tamu.edu/international/freshman?_ga=2.2268280.977187555.1557195475-1767415550.1557195475
Marshall University
Marshall University was founded in 1837. It was named after the Chief Justice John Marshal who was the definer of the constitution. The university is one of the oldest higher learning institutions in West Virginia.
Marshall university promises applicants of a high level of professional training and research that will help them thrive in the world when they graduate. They were recognised by the U.S. News and World Report for academic quality and value.
To get admission into an undergraduate degree program, you will need to pay a nonrefundable fee of $65 and send the transcripts of your secondary school to their admissions office. For proof of English Language proficiency, you will need to have your TOEFL or IELTS.
https://www.marshall.edu/admissions/international/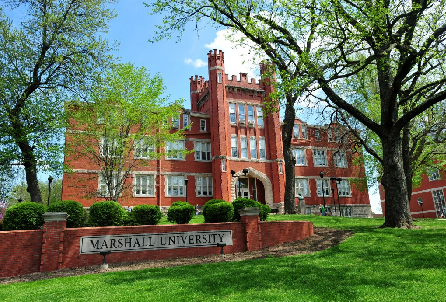 University of San Diego
San Diego University is a renowned Roman Catholic University founded in 1949. It has one of the most beautiful college campuses with stunning architectural works and ocean views.
San Diego University one of the top 100 national research universities according to the U.S. News & World Report. It is one of America's top 100 colleges and universities and was also ranked among the top 50 most entrepreneurial research universities.
You can apply to this university using your WAEC results but if you want to get considered for a merit-based scholarship, you will have to submit your SAT scores. As for the English proficiency test, they require every international applicant to provide an official TOEFL or IELTS score.
Link:
https://www.sandiego.edu/admissions/undergraduate/internationalapplicants/content-accordion4
Truman State University
According to the U.S. News & World Report's, Truman State University was ranked number one of "America's Best Colleges" in 2018. They also ranked 9th out of 50 for the most affordable university, 5th in the Midwest for "Best Undergraduate Teaching," and so on.
The university accepts certified copies of your WAEC result. Don't send the original copies as they won't return it back to you. Also, it is important to take an English Language proficiency test to meet their language requirements. You can decide to take TOEFL, IELTS, SAT, or ACT. The university does not require any application fee for undergraduate students.
Link: https://www.truman.edu/international/apply-to-truman/admission-requirements-for-international-students/freshman/
Howard University
Howard University is a private research school founded in 1867. It comprises 13 schools and colleges with its main campus in Northwest Washington not far away from the Howard Theatre.
According to the National Science Foundation, Howard University is the top producer of African American undergraduates. In 2012, National Jurist magazine ranked its Law School as one of the top 20 public service schools. The University has produced the first African American Supreme Court Justice. So, if you want a place where you will feel accepted as an African, Howard University comes is your best option.
Howard accepts WASSCE results which makes it easy to get admission. They require that your counsellor submit the national standardised examination certificates as they describe it. Another important requirement is the TOEFL or IELTS proof of English Language which every international applicant needs to send across for consideration.
https://ww2.howard.edu/admission/undergraduate/international
The Georgia State University
The New York Times has referred to the Georgia State as "an innovative engine of social mobility" while The Washington Post referred to them as a "hotbed of growth and innovation." They also ranked the university number two most innovative institution in the country.
Georgia state university has international students from over 150 countries. You can get into the university using your West African School Senior Certificate Examination (WASSCE) results and your official transcripts from junior to senior secondary school. You need to send the official copy of the documents.
You must pay a non-refundable fee of $60 dollars to begin the application process. Click here to begin the application process.
https://admissions.gsu.edu/bachelors-degree/apply/international-students/
The University of Akron
The University of Akron prides itself as the most influential public research university in its region. The university was founded in 1870 and was known as Buchtel college at that time. They have extended open arms to international students as they have students from 92 countries other than the U.S.
If you are wondering how to get into this prestigious university with only your WAEC result, you can relax now. You can use your results if you have a sponsor to take care of the tuition fee. Submit the WAEC scratch card information when applying. But if you want a scholarship, you will have to present your SAT or ACT.
For English proficiency, the university demands all international applicants for undergraduate programmes to provide a proof of English proficiency which could either be TOEFL, IETLS, SAT, ACT, and so on.
https://www.uakron.edu/international/apply/
Other universities or colleges in the UK that accept/consider WASSCE results for admission into degree programs include:
Marshall University
Babson College
Brigham Young University–Hawaii
University of San Diego
University of Missouri-St. Louis
University of Colorado Denver
Drexel University
University of Minnesota
The City University of New York
Oklahoma Panhandle State university
University of Wisconsin-Madison
South Carolina State University
Central State University
University of Central Arkansas
University of Massachusetts Amherst
La Sierra University
Indiana university south bend
Penn State University
Saint Peter's University
Subscribe now to get summarised alerts of new posts by email.